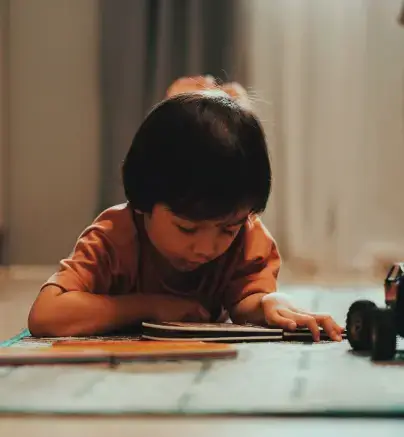 01 Dec

6 Ways to Encourage Reading Habits

Reading is one of the most important skills for a child's development and learning. The more children read, the more diverse their vocabulary becomes. Reading helps children increase their attention span, develop their language skills, and improve their memory retention and concentration. Good reading habits are formed at home and can begin at a young age. Parents are encouraged to take steps to help motivate their child to read because developing reading habits benefits young children in a variety of ways. Here are 6 ways to encourage reading habits for your child.
1. Allow Your Child to Choose Reading Materials
Allow children to choose what they want to read to encourage them to read more. Perhaps your child is interested in genres other than fairy tales or animal fiction books. He or she may prefer mysteries, science fiction, or other genres. Take your child to the library or a nearby bookstore and let him or her choose reading materials that interest him or her. When you give your child time to look around and explore, that trip to the library becomes more special.
2. Incorporate Reading Into Your Child's Daily Routine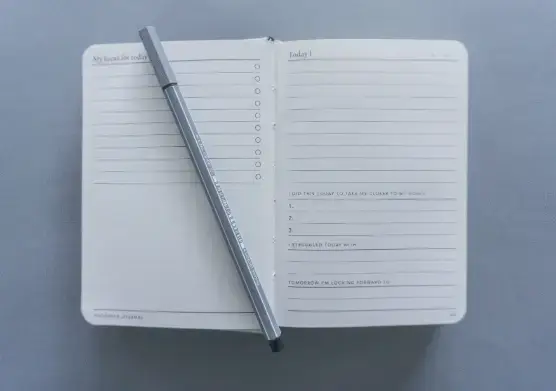 It's never too early to start teaching your child to read. Incorporate reading into your child's bedtime routine to help him or her fall in love with reading during the early years. Aside from reading bedtime stories together, set aside an hour each day to make reading a daily habit for your child. These are triggers that happen every day to ensure they read no matter what. This not only helps your child enjoy, but even look forward to the activity and develop a lifelong love of reading.
3. Lead by Example as a Parent
Children observe and imitate the actions of adults in their lives. If you want your child to enjoy reading, they must watch you lead by example. Instead of bingeing on your favourite TV show or watching movies, why not spend more time bingeing on your favourite books? You can also invite your child to join you with his or her own book so you can read together. Being a role model will show your child how important and enjoyable reading can be.
4. Have a Dedicated Reading Space at Home
Decorate a cosy reading area in your home where your child can enjoy some quiet time and become engrossed in reading something that piques his or her interest. A reading space doesn't have to take up too much space. Rather, a small, quiet area filled with books and other fun and interesting reading materials is ideal. For instance, in a corner of your home with adequate lighting, place a beanbag or a cosy chair so your child can focus and enjoy reading in comfort.
5. Create a Reader-Friendly Home
Young children who are exposed to a diverse range of reading materials are more likely to develop into lifelong readers. Encourage your child's reading habits by surrounding your home with a variety of interesting reads that they can easily understand. Make it a habit to keep a book or magazine nearby in your living room, bedroom, or even your car. Providing a diverse range of reading materials to children increases their interest in reading. This helps to demonstrate that reading is not limited to the classroom or is only required for academic purposes. Instead, they will discover that reading is a fun, entertaining, and rewarding hobby.
You might get tired of reading the same story over and over, but your child might enjoy it. Children enjoy noticing details in stories and pictures that they missed the first time they read them. Rereading allows them to connect the words they see on the page to the words they hear. Your child may eventually start reading to you from the book.
Ready to Let Your Child Be Future Ready?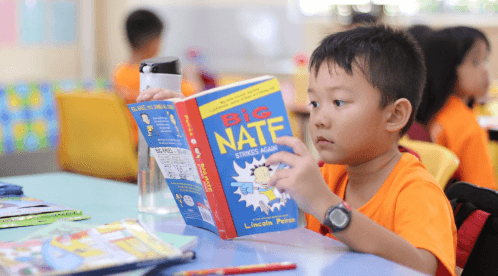 Reading is one of the foundations of education and, therefore, should be taught to students at a young age. Books are great learning tools to explain things in different ways and introduce your children to the world of words and their imagination. Reading to your child is an excellent way to bond and help your child's early development. As we know, the experiences parents share with their children will ultimately help shape their worldview. Helping your child learn to read is not a simple task, but it can be rewarding in so many ways. These reading habits will help your child become successful adults and help prepare them for the real world.
At NASCANS, we nurture the 21st-century child, preparing them for life after primary school by developing them into a self-assured team player, a joyful learner, and a caring citizen! Every child should enjoy learning, in our opinion. We also think that they should have the opportunity to identify and nurture their natural talents. We strive to make learning enjoyable and fulfilling by incorporating interactive components into lessons and lots of positive reinforcement and enjoyable activities. By doing this, we hope to instil in our students a never-ending thirst for knowledge that they will carry with them into old age.