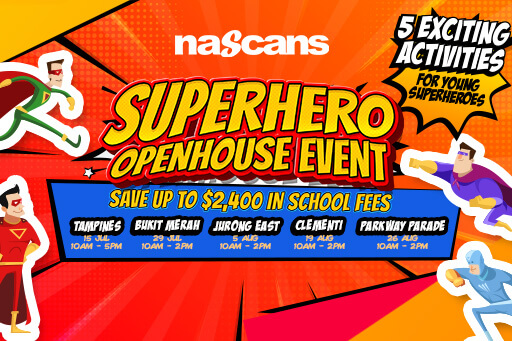 20 Jun

NASCANS Superhero Open House Event 2023
NASCANS' SUPERHERO OPEN HOUSE 2023
LOOKING FOR A STUDENT CARE CENTRE WITH AN AWARD-WINNING CURRICULUM AND HOLISTIC LEARNING EXPERIENCES?
At NASCANS, we believe in providing a conducive and safe environment for our students to achieve a holistic learning experience, transforming your child into a confident team player and a joyful learner, and preparing them with the knowledge to excel academically from Primary 1 to 6.
Join us at our Open House in July & August 2023 and enjoy exclusive enrolment promos!
Various exciting and fun activities will be available for the children, while parents will get a first-hand experience of what our centres can offer.

Participating Centres: Bukit Merah, Clementi, Jurong East, Parkway Parade and Tampines
Activities For Young Superheros
Superhero Fun – Be immersed in fun-filled games at our Games Station
Be a Superhero – Create your own superhero mask at our Art and Craft Station popular ocean creatures
Superhero Trivia – Answer questions about well-known superheroes and win attractive prizes
Peek-a-Boo – Make the day memorable at our superhero themed photo booth
Showroom – Get a first-hand experience of what our centres have to offer
Don't miss out on this opportunity to learn more about our award-winning curriculum and meet our dedicated teachers in person! Sign up now to reserve your slot to grab special school fee discounts!
SAVE UP TO $2,400 IN SCHOOL FEES!*
Visit one of our centres and find out more exclusive open house promotion!
*T&Cs apply
15 July
NASCANS @ Tampines | 10am – 5pm
29 July
NASCANS @ Bukit Merah | 10am – 2pm
5 August
NASCANS @ Jurong East | 10am – 2pm
19 August
NASCANS @ Clementi | 10am – 2pm 
26 August
NASCANS @ Parkway Parade | 10am – 2pm
Please fill in the form below to show your interest and we will see you there!
NASCANS @ Bukit Merah / Rubikon