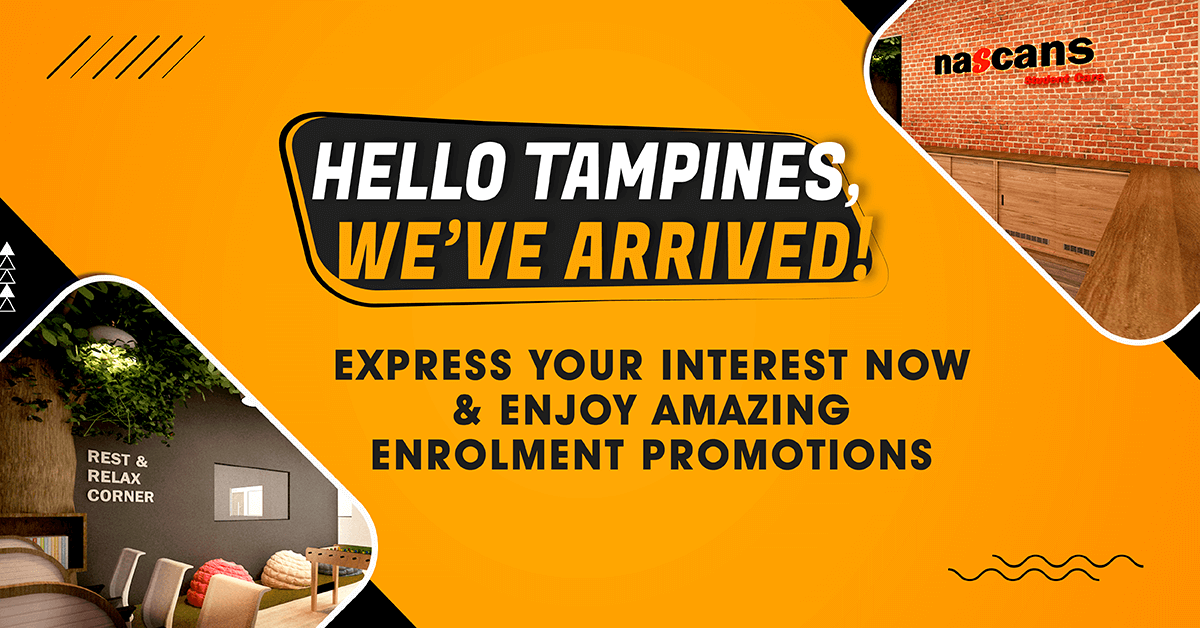 13 Feb

New NASCANS Centre @ Tampines
Spearhead your child's development at NASCANS @ Tampines
Conveniently located in the eastern part of Singapore, and a short walk away from Tampines West MRT (Downtown Line) and SAFRA Tampines, you'll find our cosy Tuition and Student Care Centre ready to provide tuition, enrichment and student care programmes for your child. Our centre is located at yo:HA Commercial @ Tampines, a one-stop edutainment centre for families and students in the area. At NASCANS, our tuition and student care programmes are designed to impart examination skills and inspire intellectual curiosity.

Spearhead your child's development at NASCANS @ Tampines! Children can look forward to our professionally-designed tuition and student care centre at Tampines. Students who are enrolled in the student care programme get to enjoy nutritious and well-balanced meals available at the centre after school hours. Thereafter, they can utilise the time in the afternoon productively by catching up on their homework, attend tuition and enrichment classes, as well as rest and rejuvenate from the school day! Equipped with computer terminals in our Educational Interactive Games Zone, our students in the student care programme can even complete their Home-Based Learning tasks in the comfort of our centre at Tampines.
With a proven track record, award-winning curriculum, qualified mentors and modern facilities, we have created a conducive and stimulating environment that nurtures the 21st century child!
New Centre Opening Promotions
Tuition & Enrichment Programmes

Enjoy savings on registration fee, tuition fee and more.
🔶 Trial class available, sign up now!

Secure enrolment package worth over $1,200*
🔶 Package consists of school fee discounts, transportation rebates and more!

🏠 Find us at, 6 Tampines Street 92, #02-05, yo:HA Commercial @ Tampines, (S) 528893. *T&Cs apply.

Award-Winning Student Care

---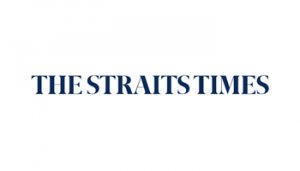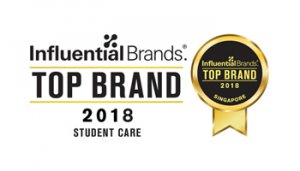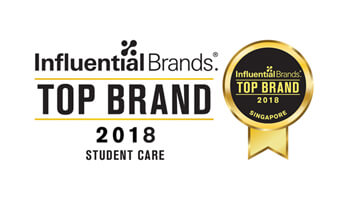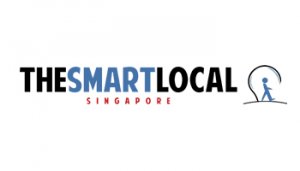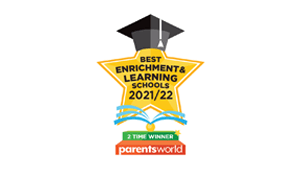 Elevate your child's after-school experience at NASCANS!

A well-rounded, student-centric approach

At NASCANS, students don't just complete their daily homework under the supervision of our mentors, they are also equipped with important study skills! Students gain a strong foundation in academic subjects in a fun and interactive manner while picking up time management strategies, organization skills, and independent learning; all of which are transferable lifelong skills that will prepare them for Primary school and beyond!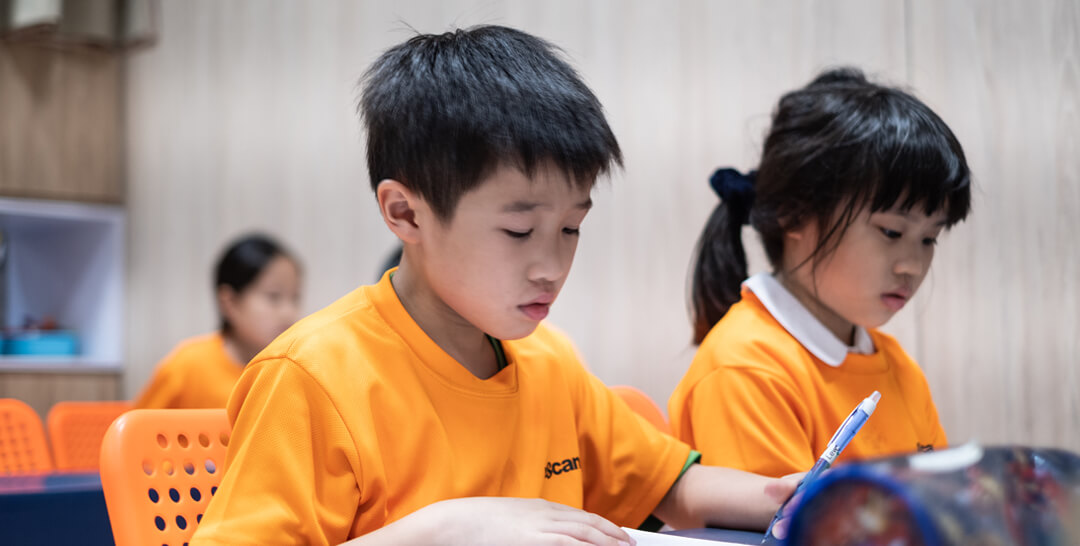 Experience differentiated learning through Multiple Intelligences

Students learn best when they are in their element! At NASCANS, we recognise that every child is unique and has different learning styles and pace. Some students learn very well in a linguistically-based environment (reading and writing), some are better taught through a mathematical-logic-based environment, while others benefit most from a kinaesthetic learning environment (learning through physical activities). Our Multiple Intelligences (MI) assessments help identify your child's strengths and inform mentors to tailor the small group tutorial lessons to their needs.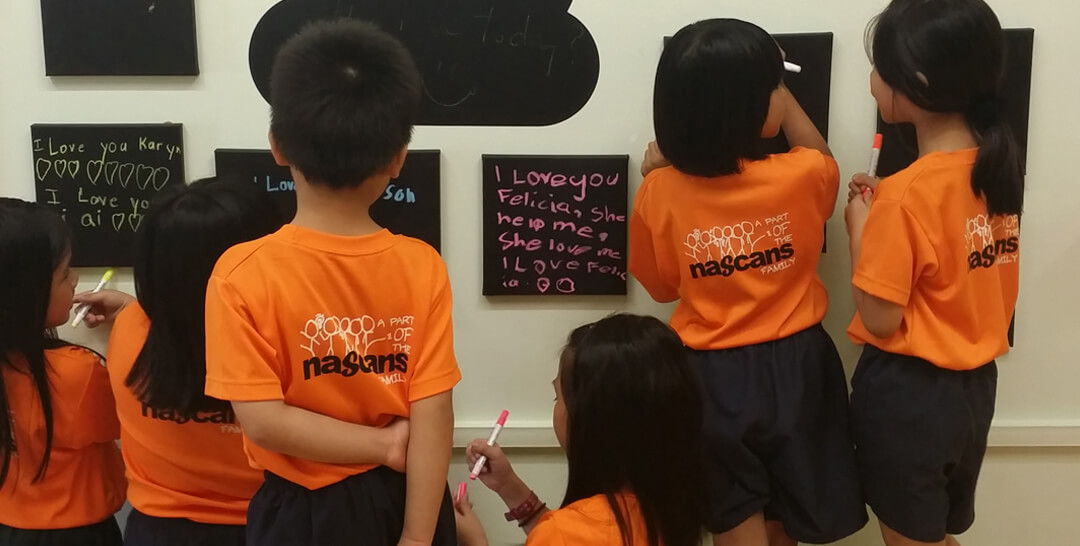 Dedicated mentors that empower learning

With over 200 hours of extensive training in all areas of work via our comprehensive OasisTM Teacher Growth Model, our student care mentors don't just teach, they care for the holistic well-being of your child. Be it supervising a homework assignment or unravelling a Mathematical concept, they are dedicated to empower your child's learning!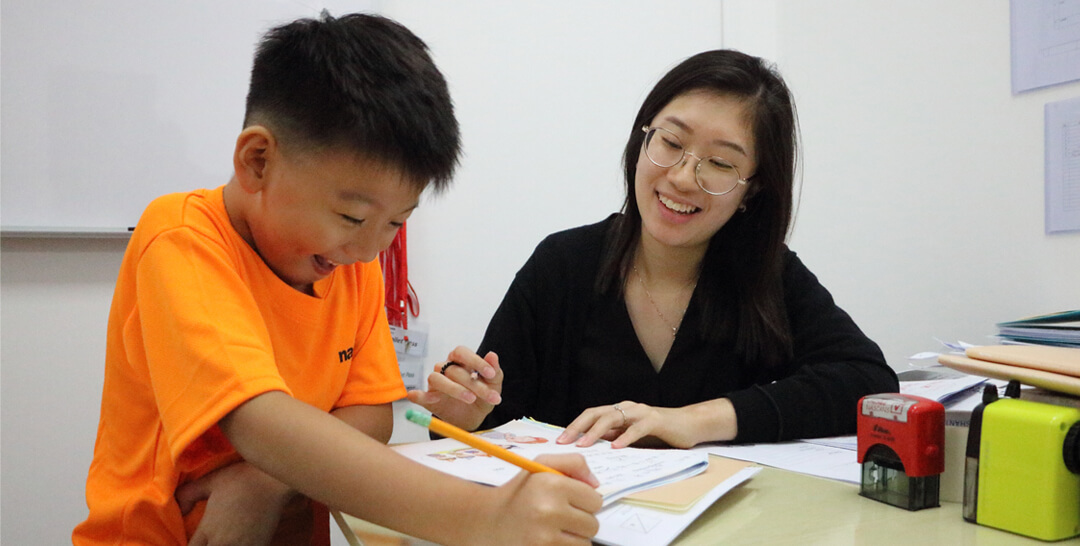 Flavours reminiscent of Home

A healthy body nourishes a healthy mind! Students can look forward to our healthy and nutritious meals and snacks, prepared by our in-house cooks and are carefully planned to ensure that your child enjoys a diverse variety of healthy foods and flavours that reminds them of home!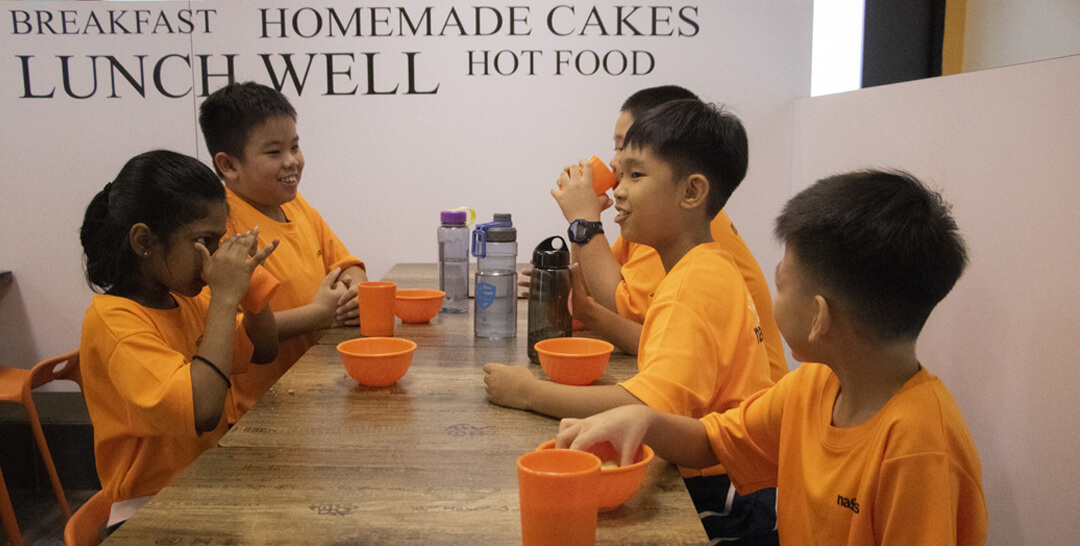 Explore our Conducive Learning Environments

Your child's after-school care environment matters! After a long day in school, students can look forward to our beautifully-designed learning spaces and rest areas. With an abundance of facilities such as a mini-library filled with age-appropriate books and magazines, computer stations, and a game corner decked out with table football, basketball, dart board, and numerous board games, there will be plenty to do after-school hours at NASCANS student care!
Future-proof Your child & More…

Equip your child with Intelligent Thinking Habits!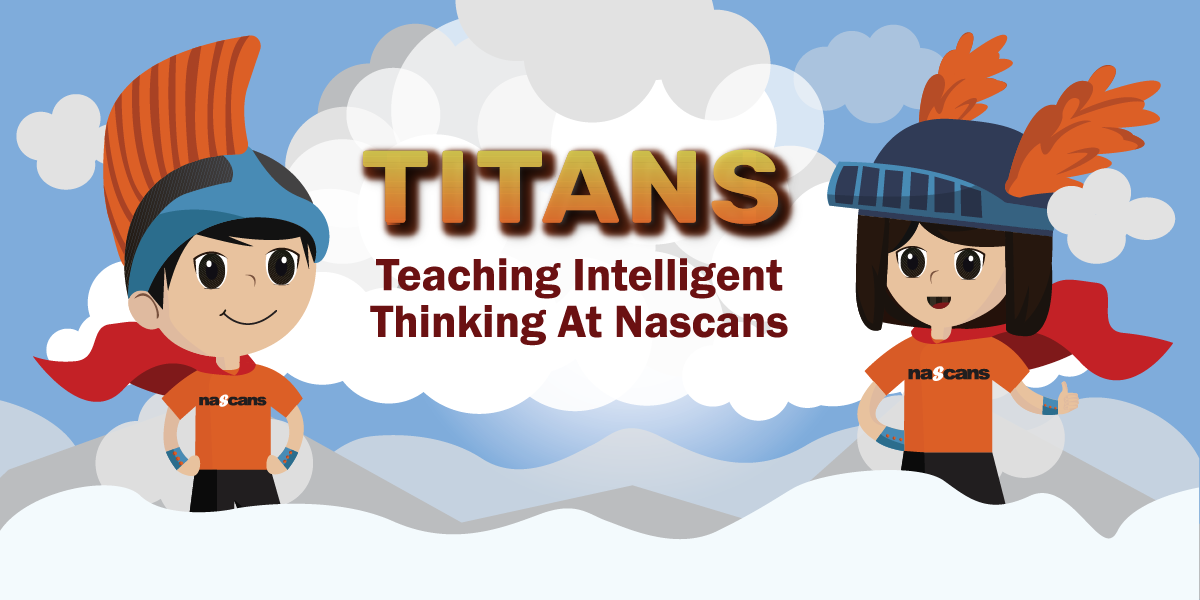 In today's world, it is important for your child to gain the necessary techniques and skills in grasping new topics while retaining and refining past knowledge. Equip your child with the means to think flexibly and draw upon a range of problem-solving strategies to achieve their goals!
Our new programme, TITANS (Teaching Intelligent Thinking at NASCANS) seeks to inculcate a proven set of intelligent habits in our students based on the Habits of MindTM, an intelligent thinking framework developed by Dr Arthur Costa, Emeritus Professor of Education at California State University.
Nurturing Independence & Social Skills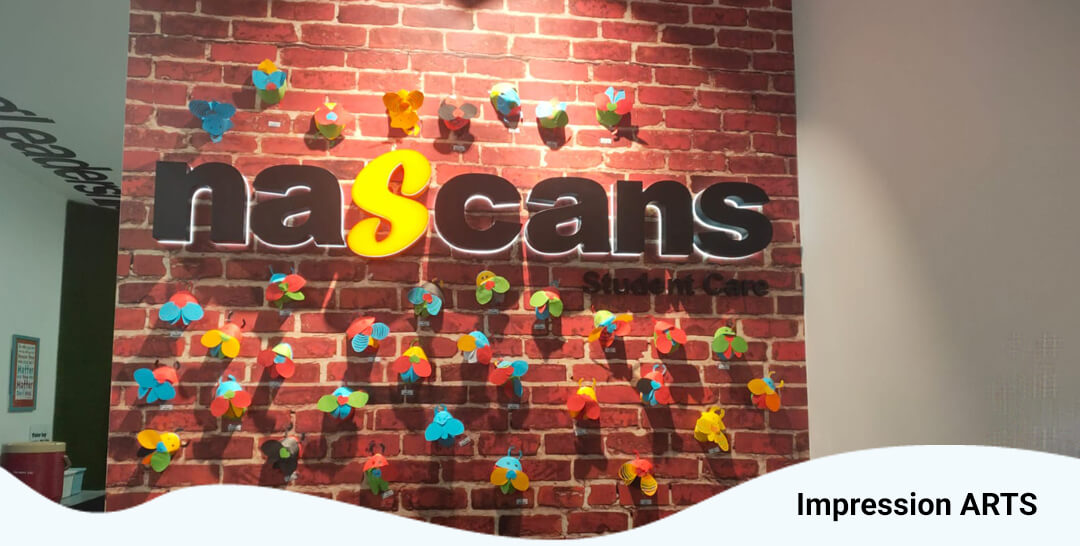 NASCANS's Impression ARTSTM is a modular creative art expression progamme that allows the student to work on his or her own masterpieces individually and towards the end, every individual masterpiece will be collated and put together creatively with the help of the mentors to form a grander community art mural on the wall.
The final artwork speaks of a collective effort to beautify our space and community and reiterates the message that each and every student can contribute to make the community even better and more beautiful.
COMPREHENSIVE SMALL-GROUP TUITION & ENRICHMENT
Designed by our in-house curriculum team, consisting of former MOE teachers, HODs and expert enrichment specialists, select from a range of tuition  programmes for Primary school academic subjects like English, Chinese , Science, Mathematics or enrichment programmes like Coding & Robotics to supplement your child's academic learning!

Master over 16 creative writing strategies for a variety of text types including situational and continuous writing in Paper 1 and learn analytical skills to decipher key terms in visual and textual comprehension passages in Paper 2.

Gain essential exam skills to tackle the comprehension and writing components of the Chinese language paper through our progressive and structured Chinese programme.

Discover and build strong fundamentals in Science content knowledge, process skills, as well as critical and creative thinking to excel in Multiple-Choice and Open-ended questions.

Concepts like Fractions, Multiplication, Percentages, Ratios, and more are covered as we equip students with the knowledge they need for the PSLE examinations.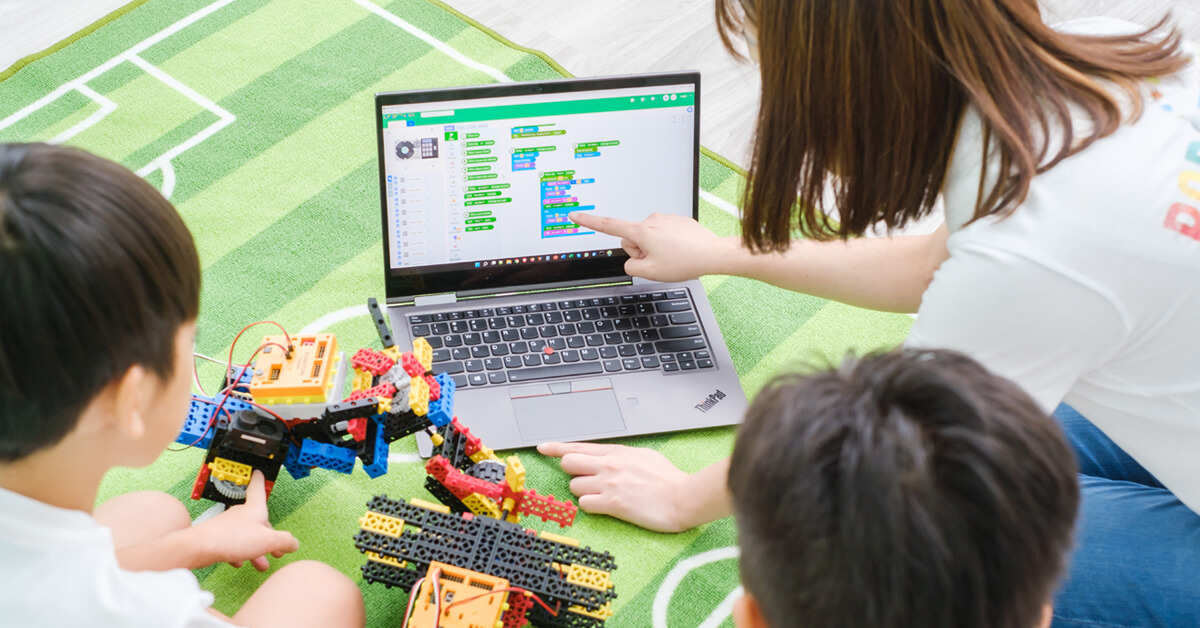 Our Coding and Robotics programme is powered by RoboThink, a global leader in STEAM enrichment with a focus on coding and robotics spanning over 20 countries!
Combining the strengths of American research, Korean innovation, and with a proprietary line of products, NASCANS' Coding and Robotics programme is designed by childhood researchers to allow students to be immersed in a fun and educational learning environment that helps them build lifelong skills for the 21st century!
*Tuition and enrichment programmes are optional and are available as an add-on to the core student care curriculum at our community-based centres. English, Mathematics and Science tuition classes will only be available in the second half of 2022.
Hear What Our Happy Parents Say

⭐️⭐️⭐️⭐️⭐️


My child finds that the curriculum and content used in school are not challenging enough for him. After joining NASCANS in:tuition, he seems excited every time he attends the lesson as he can learn new things that are not taught in school. I would highly recommend in:tuition to parents who wants their kids to maximise their potential.

- Daniel Yim (Parent of Joel, P1), NASCANS in:tuition - English/Chinese/Mathematics Excellence Programme

⭐️⭐️⭐️⭐️⭐️


As we primarily speak Chinese at home, we were worried our child could not speak proper English nor gain enough exposure of the English language. Therefore, we decided to put our child in NASCANS in:tuition. Luckily, my child likes the teacher and enjoys her lessons thoroughly. Recently, we have seen marked improvements in her English language, particularly in her reading and understanding of English words.

- Zhou Yina (Parent of Rita, P1), NASCANS in:tuition - English Excellence Programme

⭐️⭐️⭐️⭐️⭐️


My wife and I are both working long hours and seldom have the time to supervise and assist our child in his Chinese lessons. We were looking for a solution and found a convenient yet effective solution in NASCANS in:tuition. The lessons are easy to understand and within months, we have seen a significant improvement in our child. He scored an almost perfect score in his recent Chinese test. We do hope he can continue to improve on his Chinese reading and writing skills through in:tuition.

- Bryan Lao (Parent of Bernard, P2), NASCANS in:tuition - Chinese Excellence Programme

⭐️⭐️⭐️⭐️⭐️


My child used to have poor command of the Chinese language. We were on the lookout for a programme that could help with his revision and also provide the help required for Oral and composition writing. NASCANS' in:tuition's Chinese Excellence Programme provided us with a convenient and hassle-free experience of enrolling our child in a tuition class. With the well-designed worksheets, my child was able to remember the words taught during lessons.

- Felicia (Parent of Jun Rui, P2), NASCANS in:tuition - Chinese Excellence Programme

⭐️⭐️⭐️⭐️⭐️


Before joining NASCANS' in:tuition, my child had trouble reading English texts and always required help to explain the words to her. She also required guidance for her vocabulary and grammar. The in:tuition teacher's patience, friendliness as well as her way of rewarding students have helped motivated my child. Now, she is able to read more words and has better understanding of the words used in sentences.

- Lin Shiwei (Parent of Zena, P1), NASCANS in:tuition - English Excellence Programme

⭐️⭐️⭐️⭐️⭐️


To give my child additional practices in speaking and writing Chinese, we decided to enrol him in the Chinese Excellence Programme. The teacher is engaging and the lessons are interactive. Having been part of the programme for a few months now, he has become more proactive in speaking Chinese and his Chinese spelling has also improved significantly.

- Maisie Heng (Parent of Lidon, P2), NASCANS in:tuition - Chinese Excellence Programme

⭐️⭐️⭐️⭐️⭐️


In order for him to do well in his English comprehension, our child needed to improve his command of the English language. After joining in:tuition's English Excellence Programme, we began to see improvements as he is able to write and express himself better. He is also able to stay engaged during lesson as he feels comfortable with the teachers.

- Loke Hua Xiong (Parent of Kedric, P1), NASCANS in:tuition - English Excellence Programme

⭐️⭐️⭐️⭐️⭐️


The feedback from my child's school teacher is that he is quite weak in Math. Therefore, to give him additional support, we decided to join NASCANS' in:tuition. He loves the teacher's fun teaching method and the learning experience have helped build and strengthen his fundamentals in Math.

- Heng Sihui (Parent of Ayden, P2), NASCANS in:tuition - Mathematics Excellence Programme

⭐️⭐️⭐️⭐️⭐️


We wanted to build our child's language foundations and were quite glad that NASCANS in:tuition programmes were available. The patient and nurturing teachers in the English and Chinese Programme played a big part in my child's increased interest in the languages. We highly recommend students to try out the NASCANS' in:tuition programmes.

- Lee Wei Yue (Parent of Ming Juin, P2), NASCANS in:tuition - English/Chinese Excellence Programme

⭐️⭐️⭐️⭐️⭐️


My child used to reject reading Chinese story books and had difficulties reading Hanyu Pinyin as well. After trying NASCANS' in:tuition, the easy-to-understand materials used during lessons have helped grow my child's interest in the subject. I can see that she is now enjoying Chinese more and has made significant improvements in reading and recognising Chinese words.

- Tan Huai Huai (Parent of Shannon, P1), NASCANS in:tuition - Chinese Excellence Programme

⭐️⭐️⭐️⭐️⭐️


Without help at home, Math has always been my child's weakest subject. Therefore, we decided to try out NASCANS' in:tuition. After joining the class, my child always comes home excited to tell me how well she did in class and the rewards she received from the teacher. With the positive reinforcement, I can see that she has begun to like Math more than before.

- Serene Chua (Parent of Emma, P2), NASCANS in:tuition - Mathematics Excellence Programme

⭐️⭐️⭐️⭐️⭐️


My child often encountered difficulty solving Math word problems as she could not understand the questions. With NASCANS' in:tuition's small class setting, she was able to get more individualised learning time with the teacher and this has led to her being more confident when answering questions and solving problems.

- Ng Lay Ting (Parent of Beverly, P2), NASCANS in:tuition - English/Mathematics Excellence Programme

⭐️⭐️⭐️⭐️⭐️


To improve our child's English essay writing and grammar, we decided to enrol her with in:tuition. The teacher impresses us with her English content knowledge as well as her teaching skills. These have helped my child expand her vocabulary and improve her pronunciation of English words.

- Julie Tee (Parent of Yu Ru, P2), NASCANS in:tuition - English Excellence Programme

⭐️⭐️⭐️⭐️⭐️


We were looking for a teacher to revise with Adele during her free time in NASCANS and decided to give in:tuition a go. The teacher is very patient when teaching Adele and even offered rewards when she performed well in class. I will highly recommend in:tuition to my friends.

- Felicia Tan (Parent of Adele Ng, P1), NASCANS Intuition - English Excellence Programme

⭐️⭐️⭐️⭐️⭐️


My child has always faced difficulties reading Chinese words and speaking in Chinese. After joining in:tuition, the fun activities during lessons helped triggered his interest in Chinese and I observed that he has made significant improvements in the language, especially in recognising Chinese words.

- Ms Chua (Parent of Titus, P3), NASCANS Intuition - Chinese Excellence Programme

⭐️⭐️⭐️⭐️⭐️


Chinese has always been a difficult subject for Keith to master, which was why we decided to enrol with in:tuition. Keith enjoys his classes as they are fun and intuitive. The teacher is also very friendly and often gives out small gifts to encourage and motivate the students.

- Mr Wong (Parent of Keith, P1), NASCANS Intuition - Chinese Excellence Programme

The teachers guide children to behave responsibly, which will help the children to mature gracefully.

The mentors and centre manager are very responsive and attentive to my child, in terms of academics, social & mental well-being.

We love that NASCANS @ Ubi educators update us daily on our son's schoolwork and behavioral progress, and even takes the initiative to provide additional assistance in areas requiring attention.

We were introduced to Ubi centre by a friend, and found the centre to be very well-equipped with complete study facilities, and a comfortable interior which made our daughter felt welcome every day after school. We found the centre manager to be very knowledgeable and experienced, always sharing valuable advice and suggestions to ensure the positive developmental growth of the children.

"NASCANS @ UBI is well-equipped and provides a good learning environment. The centre manager and mentors go the extra mile to help Naazhim with his transition as he started Primary 1. They are very patient with him and take great care in guiding him in terms of school work and personal responsibility. They also keep us well-informed of matters that require our attention. Naazhim has been enjoying his time at NASCANS @ UBI and we are happy with the progress that he has made at NASCANS @ UBI."

My daughter has been with them for 3years and she is being cared for and taught well. I feel that I am being treated as a family with them!

Mr Yeo came across as a firm yet encouraging teacher to my child. He gives constructive feedback and set reasonable discipline measures when needed. This is important and highly recommended. Ms Angie, is a friendly and approachable lady. She is very responsive and ensures that parents are updated promptly on the schedule. Professional customer service at NASCANS!

My boy loves NASCANS' environment, the teachers, and the aunty's food. Miss Serene was so understanding to solve our problems during covid-19 period we decided to skip a few months of student care but she kept the slots for us. As parents, we felt very safe and happy to home our boy at NASCANS. The centre makes sure my boy comes home with minimal or no school homework so we can spend precious time together as family. Thank you NASCANS and thank you Miss Serene and all the teachers, you all deserve to be complimented! You all did a wonderful job and have fulfilled all parents' needs!

We are very happy to have made the right choice by placing our child at NASCANS Gambas after school hours. As working parents, we feel very assured to know that our child has been well looked after in terms of his meals, his homework/revision and his well being. We also appreciate that they constantly update us on any matters concerning our child. I will definitely recommend NASCANS to other parents who are looking for a reliable student care!

My daughters love Nascans @ Gambas and the centre-In-charge, Ms Serene, Teachers & centre Aunty are very patient & kind. Ms Serene also keeps us updated regularly on our child's progress. Above all, she will work to find solutions for whatever challenges we face along our kids' growing up journey. We are thankful because NASCANS is a partner we can trust to nurture our kids together! Thank you Ms Serene and Ms Sharmine for their patience and guidance to ease the kids into the P1 routines. From school work, school bus, and guiding them with their homework . It frees up our evening to have quality family time after a long day @ work! Kids are also served healthy lunches & tea break in school! A great relief for working parents like us! Thank you to the two lovely aunties for being a loving chef & kept the premises clean and safe for our little ones! Would I recommend NASCANS? For sure I will!

"The teachers are very caring and nice! Really love Ms Serene who is always there to assist. One of the best student care centres I know."

"A conducive and nurturing environment for the young generation. The teachers are constantly putting their best effort to nurture the kids, especially the Centre Manager - Ms Serene who is actively involved in building the character of the children apart from their academic achievement. Special thanks to NASCANS' teachers who try many ways to motivate my P6 boy who is taking PSLE this year. Without NASCANS, it would be an even tougher time. The kids are in good hands with the passion and responsible teachers around."

I am a mother of three children and all of my children have had the wonderful benefit of attending NASCANS after school care. The teachers at this centre carry out their responsibilities in caring, nurturing, and educating the children to a standard of excellence that I feel would not be easily found within the student care industry. Children are treated with kindness and respect and each child is made to feel valued and important. As a parent, I have always found the lines of communication between the teachers and myself open at all times. Each day, we hear stories from our children about the fun adventures and learning that they have experienced; reinforced by the photographs (during outings and events) and stories that their teachers share with us. My children has gained so much confidence through their experience at NASCANS!

Ever since my child was with NASCANS, he has been a happy boy and me, a happy working parent! He has never once complained that he does not want to go to the student care centre even though he is already in Primary 5. In fact, I could have saved on student care fees as he is old enough to head home by himself and take care of himself after school hours. Lebin loves to finish his homework at NASCANS as he can always ask for guidance from the teachers whenever he face difficulties. Besides homework coaching, the student care also provides additional assessments to improve his academic result. I, in fact, save a lot on tuition fee! When I head home from work, I also get to have more time to bond with him in the evening as I do not have to supervise nor check his homework at all. Lebin eats well and play well in NASCANS and he is growing up as a happy and healthy boy!

"I am very impressed with the facilities and curriculum on my first visit there. Besides coaching children with their homework, the student care also provides additional coverage for students to complete assessment books and past year examinations papers. Hence, I don't have to worry about my child's homework nor send them for tuition and can leave it all to them. During the holidays, the student care would also organise outings for movies, skating, cooking, visit to the Science Centre, Kids Amaze and more to keep children entertained and happy. My children also shared that they like attending the student care as they get to make friends, study and play with their friends. They look forward to football sessions every Thursday! The student care has far exceeded my expectations and hence I've enrolled my youngest child for this student care even though his primary school now has an in-house student care."

It's been a lovely experience working for NASCANS even though I just started working here not long ago. I've learnt a lot about teamwork, without teamwork, the centre operation won't be smooth. I've also learnt how to be patient and professional in handling things as well. I don't remember dragging myself to work in NASCANS. Every day, I look forward for a fruitful day with the kids and colleagues here. They brighten up my day here.

I think that NASCANS is a place where they offer great opportunities to those who have passion and commitment towards interacting with children. To be able to understand the younger generation in a better way and nurture them is simply a joyful experience for me. As a mentor, it's quite a huge responsibility to be able to guide these kids, explore their talents and stretch them beyond their limits.

Since I've joined NASCANS Anchor Green in December 2017, I've gained a lot of experience in student care. NASCANS have taught me to be a better individual as well as caring for our students and work colleagues. To have a smooth operation, it is always important to support one another which is what we do in Anchor Green Student Care Centre.
Are you a Primary 1 parent anxious about placing your child in a new environment or parents who are going to enrol your child into a new Student Care? Fret not! Our experienced and dedicated teachers will closely guide new students throughout the lesson, so that your child can adapt quickly and learn well in our conducive environment. Give your child the best start with our fun and enriching programmes that nurture a love for learning!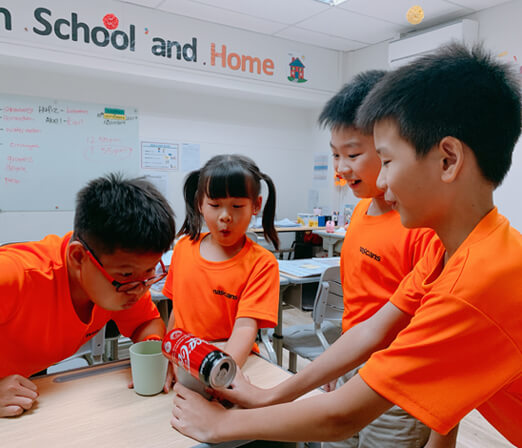 We help your child adapt to a new environment

---
At NASCANS, our teachers will pay extra attention to new students to help them cope with the new routines. NASCANS teachers continually strive to foster a positive learning environment that strengthens the teacher-child relationship and rapport at the centre.
Ready For Examinations, Ready For Life!

---
Our qualified teachers are truly committed to guide every child through the completion of their schoolwork and to provide supplementary assessments in English, Chinese, Mathematics, and Science for them to practise when the need arises.
Our Students learn how to acquire and retain knowledge effectively through bespoke lessons developed by our experienced in-house curriculum team. In addition, our centre implements a structured timetable to instil self-discipline, responsibility and task ownership in students. All these help students develop strong and positive habits that prepare them for the future.

Strong Track Record
With over 15 years of experience with student care services and combined expertise of our parent company Global Eduhub, we were specially selected by the Ministry of Education to be in over 20 primary schools.

Quality Tuition & Student Care
Our curriculum uses a holistic approach that includes Homework Coaching, Character-Building, Social & Emotional Development alongside Enrichment & Tutorial sessions.

Safe & Homely Environment
A safe, fun and conducive environment for your child to learn and grow with caring teachers, vibrant classrooms, warm showers and nutritious meals.

High Parent Satisfaction
Our routine parent surveys indicate over 95% of parents are happy with our NASCANS' quality curriculum, experienced educators, robust operations and comprehensive programmes.

Stunning Environments
We offer cool spaces at our community-based centres which allow your child to eat healthily and unwind after completing their assignments and tutorial sessions.

Dedicated Mentors
With over 200 hours of extensive training in all areas of work, our student care mentors don't just teach, they care for the holistic well-being of your child!

Bus Transportation
Transportation for children from neighbouring schools to our community-based centres can be arranged with our very own school bus vendors.