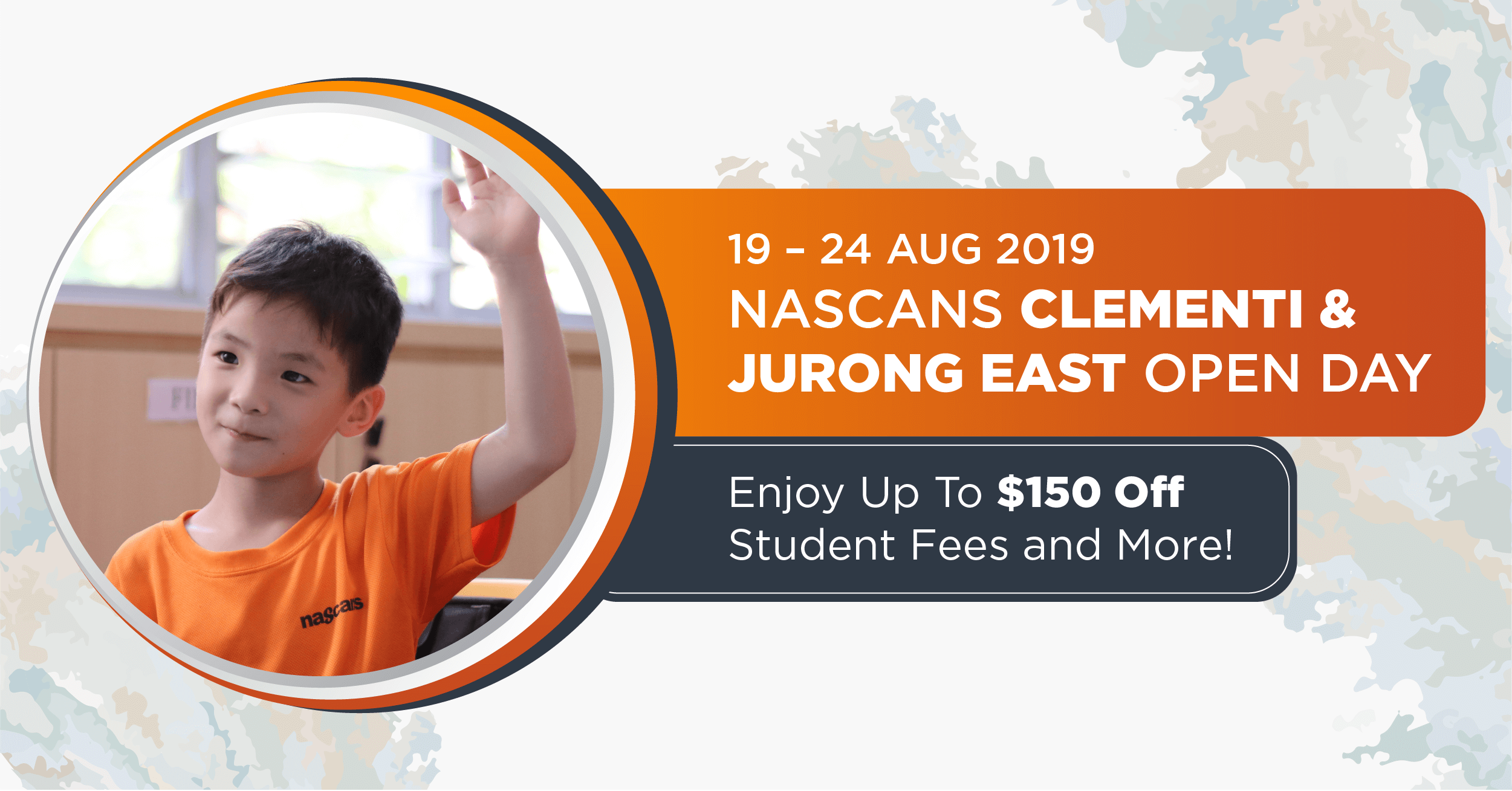 16 Jul

Clementi & Jurong East Open Day (开放日)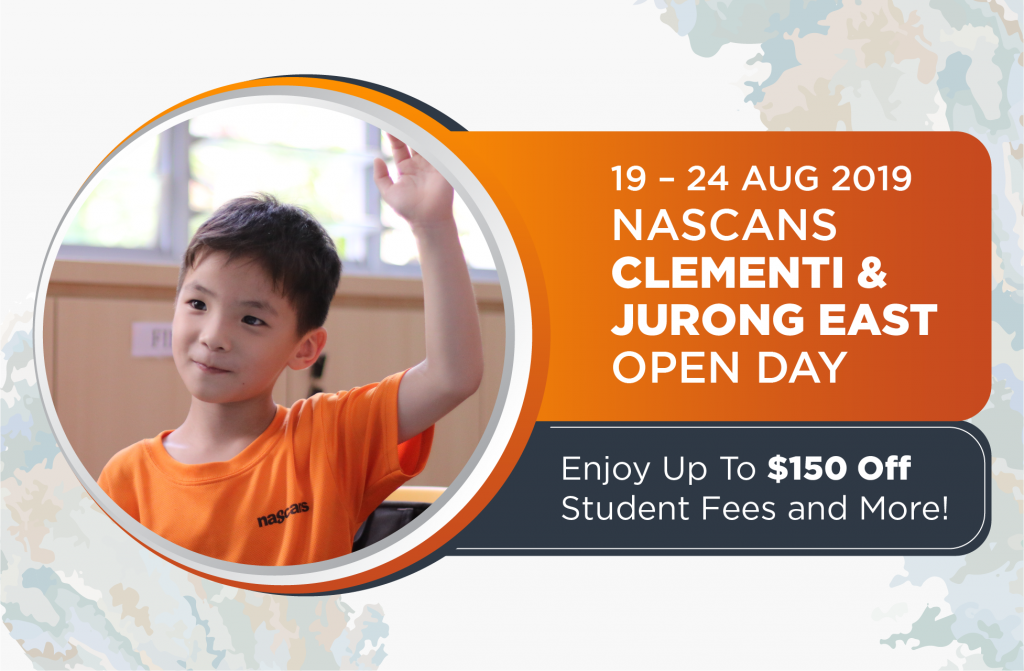 Nascans Clementi & Jurong East Centre Open Day

---
Hello parents! Still looking for the best student care for your child's after-school needs? Stop searching and come by our Open Day at our centres in Clementi and Jurong East from the 19 – 24 August 2019.
Talk to us about our award-winning holistic student care programme which incorporates the "Habits of Mind™" to help students develop positive thinking habits, leadership skills and strength of character.
Your child's academic progress is kept in check under the tutelage of our MOE-qualified educators, who are always at hand to guide them in their homework, revision and assessments in both English and Chinese.
Learning excursions and field trips are a regular feature at Nascans as we truly believe that learning happens both indoors and outdoors. Our centres are also fully equipped with a variety of games for the students to relax after a long day of learning and we also provide healthy meals prepared in-house.
So hurry now and book a personalized tour during our Open Day and experience for yourself why Nascans is the perfect oasis between school and home! Admission For Next Year Intake is Opened.
Nascans金文泰和裕廊西开放日

---
Nascans品牌运营着优质的课后学生托管中心。以精心研发的课程和课余活动为小学生们提供全面的课后指导和学习体验。我们的教师团队拥有教育部的资质。您的孩子可以在Nascans的中心内,在一系列结构化和充满趣味的课外活动中,完成学校布置的作业。Nascans独特的课程将"心灵习惯"和"思维导图"技术融入教学的训练,让学生们拥有领导能力的培养和个人品格的锻炼。
金文泰和裕廊西本托管中心开放日为8月19日至24日,欢迎您来到到我们的托管中心参观体验。明年入学注册已开放。
Waiver of Registration Fee
免注册费用
1 Free set of uniform
免费校服一套
Free Multiple Intelligence Profiling(免费多元智能分析)
Enjoy up to $150 off school fees (高达$150的学费折扣)
Free School Bus Service 免费校车服务
Note: Promotion is applicable at Clementi and Jurong East centres only.
(优惠仅限于位于金文泰和裕廊东的中心)
Nascans Centre Experience
---
Every Nascans centre is professionally designed according to the unique Nascans learning experience to provide student with a conducive learning environment that's safe, friendly and cosy.
Watch our centre video now!
 431 Clementi Ave 3 #01-356 Singapore 120431
135 Jurong Gateway Road #04-339 Singapore 600135
Date: 19 – 24 August 8月19日至24日
Timeslots: 10.00 am – 12.30 pm / 2.00 pm – 5.00 pm
Locations: Clementi & Jurong East
金文泰 ,裕廊西
Date: 24 August 8月24日
Timeslots: 10.00 am – 1.00 pm
Locations: Clementi & Jurong East
金文泰 ,裕廊西

Strong Track Record
With over 12 years of experience with student care services and combined expertise of parent company Global Eduhub, we were specially selected by the Ministry of Education to be in over 20 primary schools.

Award-winning Programme
Our curriculum uses a holistic approach that includes Homework Coaching, Character-Building, Social & Emotional Development and Enrichment & Tutorial sessions.

Safe & Homely Environment
A safe, fun and conducive environment for your child to learn and grow with caring teachers, vibrant classrooms, warm showers and daily balanced meals.

High Parent Satisfaction
Our routine parent surbeys indicate over 95% of parents are happy with our NASCANS' quality curriculum, experienced educators, robust operations and comprehensive programmes.

Stunning Environments
We offer cool spaces at our community-based centres such as UN:WIND, RE:FUEL and WIRED, which allow your child to eat healthy and play well after completing their assignments and tutorial sessions.

Quality Educators
We use former MOE educators to helm subject tutorial sessions at our Community-based centres. Our mentors also ensure children complete their daily assignments by the end of the day.

Bus Transportation
Transportation for children from school to our centre can be arranged with our very own school bus vendors.
Register For Open Day Visit
Thank you! The event is over, for any enquiries, please click here to contact us.